Starting from
$ 33,845
Listed price does not include taxes and licensing fees
2019 Dodge Challenger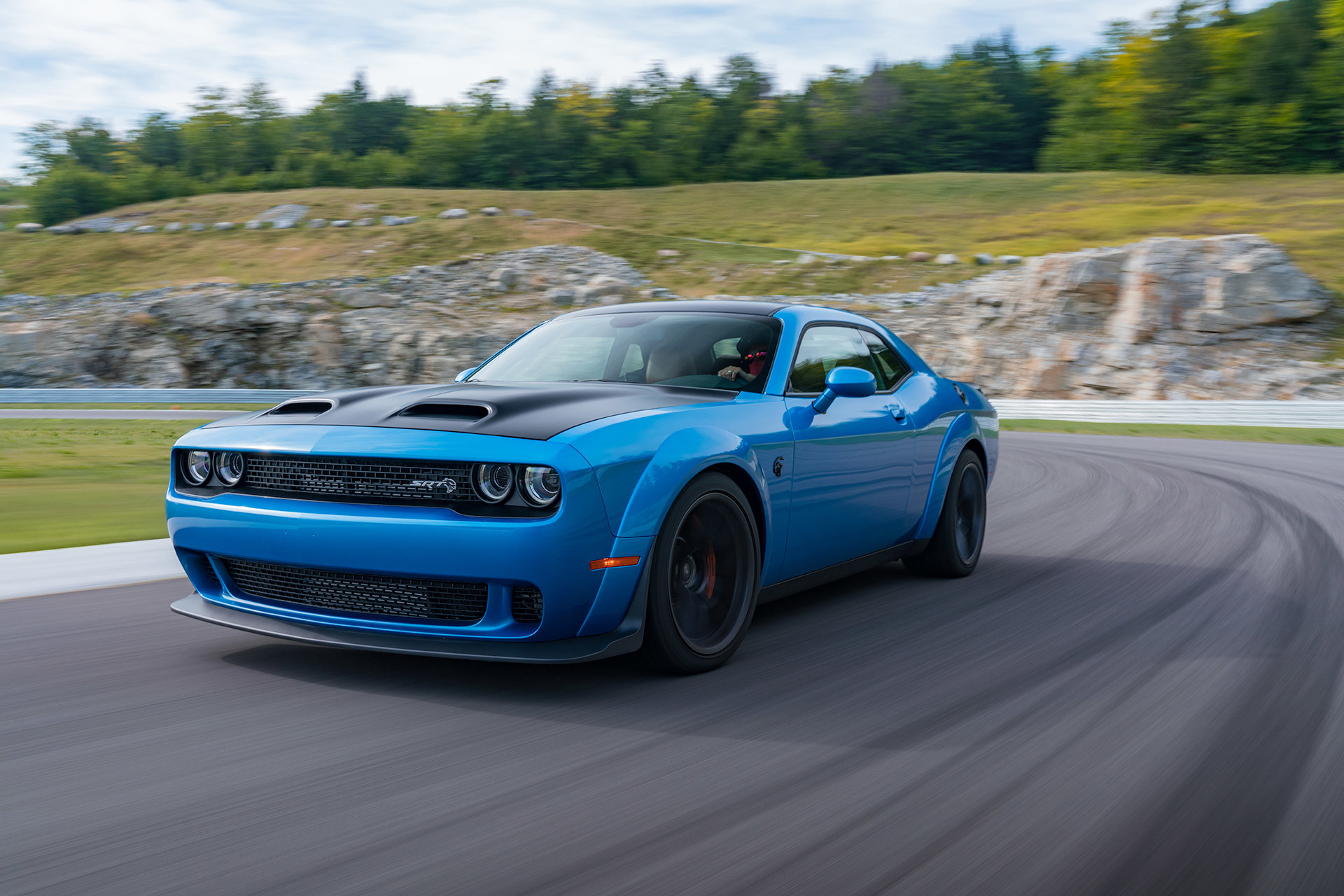 797-HP REDEYE
Before the Challenger SRT® Demon finished its limited run, it imparted its soul — the Supercharged 6.2-litre HEMI® V8 high-output engine — into the Challenger SRT Hellcat, and the Challenger SRT Hellcat Redeye was born. Like its Demon brother, SRT Hellcat Redeye boasts 25 major component upgrades to withstand the intensity that comes from 797 horsepower, 707 lb-ft of torque and a top speed of 326 km/h (203 mph). SRT Hellcat Redeye also grabbed Torque Reserve, SRT Power Chiller® and After-Run Chiller from the Demon. SRT Hellcat Redeye offers two final drive ratios: a standard 2.62:1 or available 3.09:1 for increased launch capability. The fully functional dual-snorkel hood not only provides maximum air intake to the supercharged powerplant, it also pays homage to the most famous Dodge muscle cars in its appearance. SRT Hellcat Redeye puts others on notice with enhanced badging featuring a sinister Red jewel-like eye design on the Hellcat that jumps off the Midnight Grey Metallic-finish fender badge. A new die-cast SRT emblem on the supercharger housing also showcases the new Redeye logo. WHAT A BODY //// Because everyone loves options, SRT Hellcat Redeye, Challenger SRT Hellcat and Challenger Scat Pack 392 offer a Widebody Package. Wider fender flares add 8.89 centimetres (3.5 inches) to the overall width of the vehicle, resulting in a more muscular, planted stance. Widebody Packages include split five-spoke, 20×11-inch "Devil's Rim" forged aluminum wheels riding on sticky 305/35ZR20 Pirelli® P-Zero tires for improved performance and a more menacing look. Widebody on Scat Pack also includes six-piston Brembo® front brakes and an Adaptive Damping Suspension.
SRT® HELLCAT UP TO 717 HORSEPOWER
DODGE SRT HELLCAT //// It doesn't just look fiercer, it is fiercer. Challenger SRT Hellcat pays homage to some of its most iconic predecessors with a new hood featuring two fully functional air-sucking snorkels. The large gulps of air allow the beastly Supercharged 6.2-litre SRT Hellcat HEMI® V8 engine to add 10 more horses to its stable, bringing the total horsepower to a whopping 717 (656 lb-ft of torque). Challenger SRT Hellcat also slurps air into the engine's air box via the lit Air Catcher® headlamp inlet port located in the driver-side parking lamp. A 92-mm throttle body controls airflow into the Supercharger and air charger coolers, and then into the inlet port. The Supercharger houses internal charge coolers and an integrated electronic bypass valve. The twin-screw rotors are specially treated to accommodate tighter internal tolerances between the rotors and help improve overall performance. Both Challenger SRT Hellcat (717 horsepower, 656 lb-ft of torque) and Charger SRT Hellcat (707 horsepower, 650 lb-ft of torque) run a staggering quarter-mile time and are arguably two of the most coveted performance vehicles on the road. These powerhouses use upgraded components that can withstand the brutal performance they are capable of unleashing.
The SRT tuned Bilstein® three-mode Adaptive Damping Suspension system on both models provides driver-selectable settings to include: Street (Auto) Mode = sporty but compliant ride; Sport Mode = firm, maximum handling; Track Mode = firm, maximum handling plus performance shifting, and a gear-holding feature to suit any driver's needs. The SRT drive modes, which are accessed via the 8.4-inch Uconnect® touchscreen, offer selectable settings for Street (Auto), Sport and Track. There is also a custom setting that allows drivers the ability to tailor their experience by individually adjusting horsepower, transmission shift speeds, steering effort, paddle shifters, traction and suspension preferences. The standard SRT Performance Pages bring critical vehicle performance data to the driver's fingertips, while race options give the driver the ability to access Launch Control, Shift Light and Line Lock, which is new for 2019.
SCAT PACK 392
NODS TO THE PAST WHILE POWERING AHEAD
The name nods to the past while the performance delivers modern muscle. Challenger and Charger Scat Pack 392 models get their power from the famed 392 HEMI® V8 engine. The 485 horsepower and 475 lb-ft of torque are backed by four-piston Brembo® brakes, Three-Mode Electronic Stability Control (ESC)4 with Full-Off Mode, high-performance suspension with Bilstein® shocks and 20×9-inch aluminum wheels. Both Challenger and Charger Scat Pack offer available cold-air induction, while Challenger offers an available full-floating, open-element Shaker hood scoop, included with the optional Shaker Package.
Inside these vehicles, race-inspired seats feature a Scat Pack Bee logo embroidered on either a standard high-performance premium cloth or available Nappa leather trim with Alcantara® suede inserts. Every Scat Pack 392 model includes Dodge SRT® Performance Pages that feature everything from Launch Control to a g-force metre to drag-race timers. This real-time data can also be accessed on either the standard 7-inch, full-colour, customizable, in-cluster display centre housed between the gauges or the standard 8.4-inch Uconnect® touchscreen. SRT drive modes offer the ability to customize steering feel, transmission shift points, throttle response, ESC4 tuning and suspension firmness (if equipped with Adaptive Damping Suspension).
STAGING LANE-READY 1320
Your eyes are locked on the last yellow, and you're ready to move. You've upped your race readiness by opting for the new Scat Pack 1320 with transbrake, drag suspension, Adaptive Damping Suspension and 275/40R20 102W drag radial tires all included — so are the unique fender and instrument-panel badges that let others know you're packing a little something extra. Other package content includes: Drag Mode Performance Pages, unique illuminated Air Catcher ® headlamp, Dodge Alcantara ® wrapped performance steering wheel, 20×9.5-inch Low-Gloss Black drag wheels and more.
A BREATH OF RETRO
CHALLENGER T/A Named for the iconic Dodge that competed in the 1970s Trans-Am racing series, Challenger T/A delivers performance that lives up to its storied reputation. Choose between the legendary 5.7-litre HEMI® Variable Valve Timing (VVT) V8 engine, with up to 375 horsepower and 410 lb-ft of torque (standard on R/T T/A), or the uncompromising 485 horsepower and 475 lb-ft of torque from the 6.4-litre SRT® HEMI V8 (standard on T/A 392). Retro design cues are found in the premium-painted Satin Black Mopar® Induction Hood, Satin Black rear spoiler with Challenger T/A badge, T/A bodyside stripes, T/A illuminated dual Air Catcher® headlamps, Satin Black wrapped roof and deck lid, lightweight forged aluminum wheels, and more. Slide into the front performance seats with large side bolsters for maximum lateral support, and you'll find yourself surrounded by race-inspired details, like a leather-wrapped performance steering wheel with mounted paddle shifters on automatic transmission models, sporty bright pedals, Dodge Performance Pages, heritage-inspired shifter and Tic-Toc-Tach gauges. Opt between Houndstooth cloth seats (available heated) or ventilated Nappa leather with perforated Alcantara® inserts.