Starting from
$ 33,120
Listed price does not include taxes and licensing fees
Perfect for any job.
Ram promaster city® & promaster®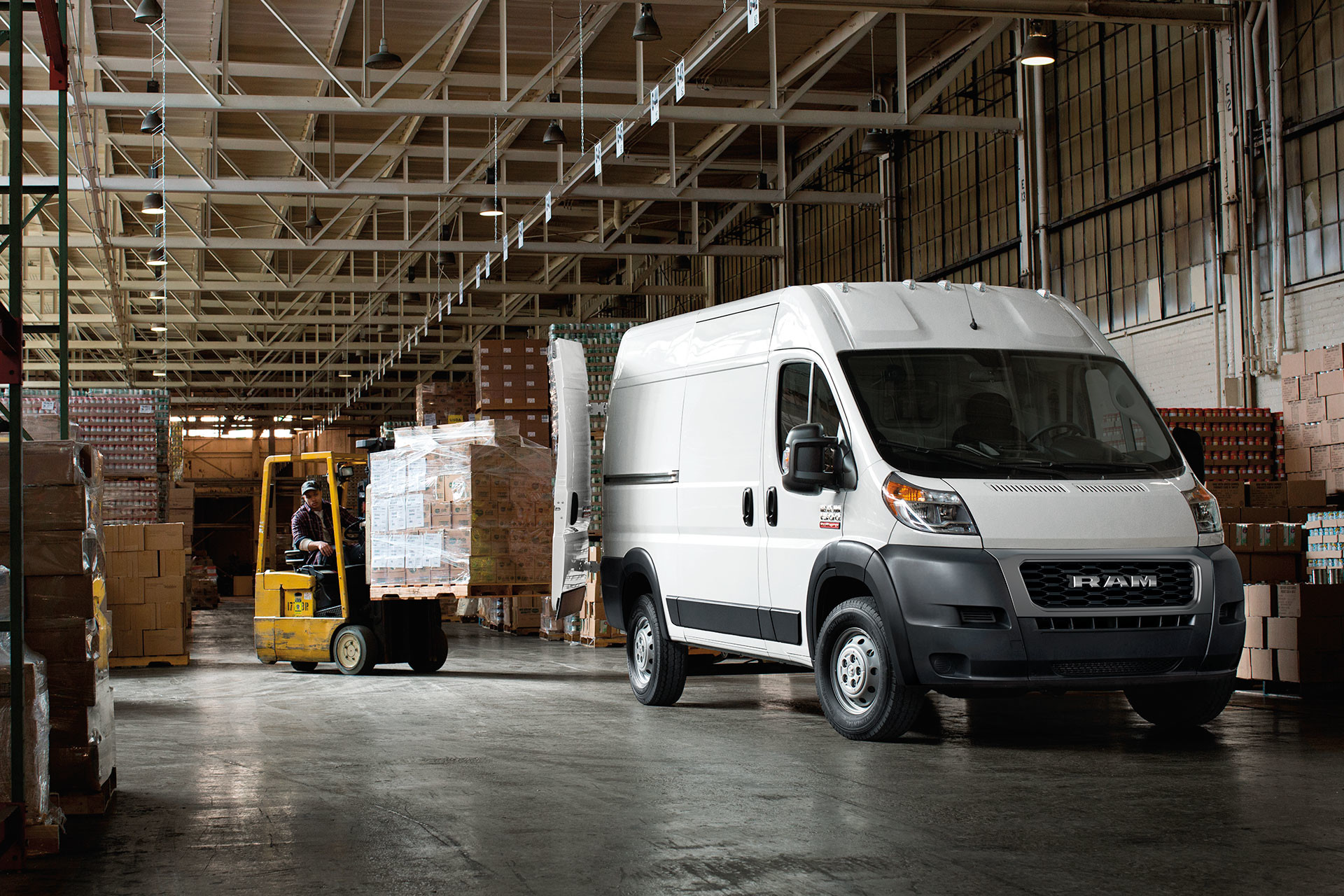 Two vehicles. Dozens of best-in-class advantages—and infinite possibilities.
Few commercial vehicles deliver the strengths of Ram ProMaster City and ProMaster—and even fewer offer such versatility and businessfriendly low costs of ownership. Need over-the-top cargo volume with the welcome choice of multiple wheelbases and two roof heights? The nimble, agile and ultra-spacious Ram ProMaster Cargo Van will take it on. For a more compact solution, ProMaster City—delivering Best-in-Class Cargo Capacity,1 * Payload1 and Highway Fuel Economy2 —is the way to go. In short, the adaptability, capability, comfort and low costs of ownership built into every Ram ProMaster City and ProMaster just work best.
Best-in-Class 8.3 L/100 KM hwy (34 mpg hwy).2*
It's all about the economy.
The focus: Low costs of ownership. Every day, every KILOMETRE—and over the years.
It's all about saving. Time. Money. Hassles. The gas-sipping 2.4L Tigershark® 4-cylinder with MultiAir®2 technology is mated to the superefficient and Class-Exclusive 9-speed automatic transmission.1 The results are ideal for business: Best-in-Class highway fuel economy2 with a responsive 0 – 48 km/h (0 – 30 mph) time of only 3.7 seconds—built-in confidence from freeway ramps to city boulevards. Now factor in the exceptional driving range—which can reach up to 740 kilometres highway (460 miles) on a single tank of 87-octane regular.2 Consider recommended oil change intervals as seldom as every 16,000 kilometres (10,000 miles). Add the outstanding protection of a 5-Year/100,000-Kilometre Powertrain Limited Warranty, and it's bottom-line clear: along with its wealth of Best-in-Class features,1 Ram ProMaster City® also delivers incredible value. Our neighbours next door know it—because only Ram ProMaster City carries the rank of Canada's Most Efficient Work Van.4
Safety & security: we've got you covered.
Whether you're carrying cargo, passengers or both, protect all of it. Every Ram ProMaster City® features one of the most comprehensive and advanced technologies for handling and manoeuvring: the Electronic Stability Control (ESC) system.6 This system integrates the Antilock Brake System (ABS) with a variety of All-Speed Traction Control technologies that enable all four corners of the vehicle to respond to lateral movement and the steering input from the driver.
Built for inner space.
Not merely people-friendly. It's everything-friendly.
Meet the smartly designed Ram ProMaster City® Passenger Wagon. Whether you manage an office team or coach your local baseball team, this Wagon delivers top-of-the-line assets for all: total comfort, a supremely quiet ride and welcome adaptability. Seating is critical. Front tubular bucket seats feature spring suspensions, adjustable headrests with reclining seatbacks, durable fabrics and easy in-and-out access; manual lumbar support controls for the driver's seat and heated surfaces for the front seats are both available. The innovative second-row design reflects inventive practicality and a focus on comfort, employing the smart Fold and Tumble rear-seat design that enables nine configurations. Dual side doors slide open, and rear doors feature a smart and safety-oriented 60/40-split design. The larger of the rear doors is placed on the driver's side for good reason: the offset design makes curbside loading easier and safer than conventionally designed doors. Storage is abundant. In back, the cargo area width maxes out at 1,463 mm (57.6 in). In front, the large, standard overhead front-shelf system stashes everything from gloves to ice scrapers to notebooks. An oversized glove box (2.9 L [176.9 cu in]) joins a large, open, 305×102-mm (12×4-in) in-dashboard storage bin; the concave storage tray in front of the driver is ideal for valuables and personal devices. To that, add multiple storage pockets and trays around the media centre, a centre console with two cup holders, two 12-volt capped auxiliary power outlets, and USB and auxiliary connections for smart and intuitive charging.
Chassis cab & cutaway
The underlying structure is resilient. Now aim for the best—the perfect upfit for you.
This is what it takes: industrial-grade chassis solely in the 3500 weight class. No-nonsense Gross Combined Weight Rating (GCWR). Heavy-duty suspension with a MacPherson strut front unit and wider, more robust rear axle over the previous edition—and each suspension is tuned to the specific model. Upfit-ready design, with a 620-mm (24.4-in) frame height to reduce the ramp angle to a minimum—which creates huge potential for customization. In 136- and 159-inch wheelbases, with length maxing out at 6,208 mm (244.4 in), these workers put sheer capability at your service, delivering a 4,241-kg (9,350-lb)* Gross Vehicle Weight Rating (GVWR), towing up to 2,313 kg (5,100 lb)† and payload up to 2,372 kg (5,230 lb).† So go ahead. Custom-design anything from a dream camper to the ideal service body for your business. A Ram ProMaster® Chassis Cab or Cutaway model is ready, willing—and waiting for your order.